As a business owner, insurance is always a must. If you are interested in entering into the cannabis industry or you already have, it's important to know what to expect when it comes to insuring your cannabis-related business.
That's why we'll be exploring what dispensary insurance is, different options for business owners and general advice regarding dispensary and other CRB insurance.
What is Dispensary Insurance?
Insurance for cannabis-related businesses refers to policies that protect the business against risk. This can include dispensaries, cultivation centers and testing labs – all of which require different levels of coverage and liability.
We spoke to Alexander Marenco, an insurance broker from Marenco Insurance, who explained what dispensary owners should know before seeking out insurance. Marenco says it's similar to shopping for insurance for other businesess. "You need to have full details of the business and location to receive a quote." He adds. "The applications will ask questions such as location, renovations, or improvements to the location, ownership information, payroll details, and sales or projected annual sales."
How is Dispensary Insurance Different From Other Forms of Business Insurance?
Because non-hemp-derived cannabis is still considered a schedule one controlled substance under the Controlled Substance Act, cannabis insurance can be more expensive than regular insurance for non-cannabis businesses. Because of the risks associated with being considered a potential retailer of a controlled substance, liability policies and other options can cost a pretty penny.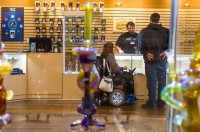 The cash-only nature of the business makes insuring dispensaries more costly
Additionally, when asking Marenco about how dispensary insurance differs from other brick-and-mortar retail insurance, he says: "With more states increasingly legalizing medicinal and recreational marijuana, insurance carriers have started to open risk acceptability. However, since marijuana is still federally illegal, businesses will find it difficult to find multiple quotes from different carriers."
Types of Insurance Available for Cannabis-Related Businesses
What kind of insurance is available for cannabis-related businesses? Let's find out.
First off, it's important to keep in mind that CRBs are at risk for a lot of things: workplace accidents, damage to property, theft, general liability and product liability. Plus, the fact that most dispensaries work on a cash-only business model until the Secure and Fair Enforcement (SAFE) Banking Act is approved by Congress, CRBs tend to handle big amounts of cash, further putting them at risk of theft and liability. CRB insurance can be as low as $350 and as high as $7,500 depending on the type of business and policy.
Here are some of the most common types of insurance for CRBs and what they cover:
General liability: third-party claims for bodily injury, property damage and reputational harm. Commercial property: damage to a business-owned property. Professional liability: third-party accusations of negligence and mistakes. Workers' compensation: employees' medical bills and lost wages due to injury or illness. Inland marine: damage or theft of business-owned property in transit. Crop: costs from damage to seeds and plants.
With so many things to watch out for, insurance for cannabis businesses and dispensaries isn't cheap. Here, Marenco says what CRB owners can do to keep their premiums as low as possible: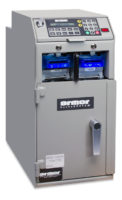 A smart safe like this one can help secure cash handling
"Premiums are primarily based on sales (actual or projected). After the term expires, the insurance carrier will conduct an audit for the prior term to confirm the information from the application. The audited discrepancy will adjust the next term's sales figures. Dispensary insurance will typically be placed through an excess & surplus market which do not provide traditional discounts."
So, in essence, the best thing a dispensary owner can do is be honest about their projections.
Navigating premiums can be a detailed process, as we learned when speaking to Jesse Giffith, an owner of Smokeless CBD and Vape: a chain of retail shops across the twin cities Minneapolis–Saint Paul, Minnesota:
"Our shops carry insurance that has been offered with a modified rate for vape retailers. This route was not as straightforward as some traditional retail insurance options, but may offer benefits, and a better fit for coverage than other dispensary insurance options."
A Growing Number of Dispensaries Across America
With the growing legalization and normalization of adult use, medical and hemp-derived cannabis across the nation, it should come as no surprise that the number of dispensaries across the country grows exponentially.
In 2021, the cannabis market in the U.S. was valued at 10.8 billion dollars, with an expected annual growth of 14.9% annually. This is a sign of what's to come. Cannabis may be an industry that's been considered taboo for decades, but the growth shows the growing acceptance of the plant for medical and adult use reasons.
Insurance providers remain cautious as cannabis laws are still in flux.
With that growth comes a greater need for insurance providers, opening the door to the possibility that these two industries will grow in tandem. The future may bring a greater variety of options for coverage at cheaper prices. But for the time being, insurance providers remain cautious as the fate of federal and local cannabis laws are still in flux.
Are There Limited Carriers that Issue Dispensary Insurance?
Every CRB needs insurance, just like any other type of establishment, business or company. The issue within the cannabis industry is that there is still a limited insurance market, with insurers willing to provide insurance constantly exiting and entering the market. Plus, the overall capacity and variety of policies that cover different types of risks are limited. Lastly, it can be difficult to use CRB insurance when you read between the lines of the policy. Because cannabis with THC is still federally illegal (excluding hemp-derived cannabis products containing less than 0.3% THC), insurers can negate coverage when a loss or claim occurs.
Because of the complications that may arise even if you do have insurance, Marenco offers some advice for dispensary owners that are searching for the right insurance option for them: "Before shopping for insurance make sure you have all your licenses and are in full compliance with all regulations. Insurance carrier's requirements from the state. Additionally, consider different coverage options." He continues. "At a minimum, a business needs general liability insurance. Insurance companies can also consider covering business property including inventory, betterments, and improvements to a rented space, among others. When shopping for insurance make sure your agent reviews different coverage options."
Copyright
© Cannabis Industry Journal