PARSIPPANY, NJ, October 17, 2022 – The Cannabis Quality Conference & Expo (CQC) just announced the newest addition to the event's agenda. Commissioner Maria Del Cid-Kosso of the New Jersey Cannabis Regulatory Commission will deliver a keynote presentation at 1:00 PM EST on Monday, October 17.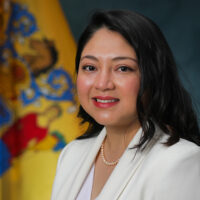 Commissioner Maria Del Cid-Kosso of the New Jersey Cannabis Regulatory Commission
Commissioner Del Cid is an inaugural commissioner of the NJ Cannabis Regulatory Commission, the government body overseeing regulating the state's new cannabis industry. Prior to being appointed by Governor Phil Murphy in February of 2021, she was the Director of Policy and Legislative Services at the New Jersey Department of Health. She was awarded the Union County Women of Excellence Award in Government, the Hazel Frank Gluck Award from the Eagleton Institute of Politics, Urban League of Union County Young Professionals Award in Government, and has been recognized as Insider NJ's 2021 Top 6 Millennial; Insider's 100 Cannabis Leaders; Insider's 50 under 30; and Insider's Top 100 Millennials (2018, 2019, and 2020).
Following Commissioner Del Cid's keynote presentation, a panel discussion on The Future of East Coast Cannabis: Social Equity, Justice & Legalization will take place in the afternoon. Following that will be a panel on The Standardization State of the Union: Science-Based Resources for Driving Cannabis Safety with an overview of the New Jersey cannabis marketplace to end the first day.
The second day will kick off with a Keynote titled Centering Equity in Cannabis Policy, Quality & Business with Toi Hutchinson, President & CEO at Marijuana Policy Project. Other agenda highlights include:
The State of the State: An Update on New Jersey Legalization by Steven M. Schain, Esquire, Attorney at Smart-Counsel, LLC Tri-State Cannabis: Pro Tips for Winning Applications by Sumer Thomas, Director of Regulatory Affairs and Russ Hudson, Project Manager at Canna Advisors Navigating Cannabis Testing Regulations for Multi-State Operations by Michael Kahn, President & Founder of MCR Labs Keynote by Edmund DeVeaux, President of the New Jersey Cannabusiness Association A Guide to Infusion Technology | Design Experiences that Inspire and Innovate with Cannabis Ingredients by Austin Stevenson, Chief Innovation Officer at Vertosa Valuable Analysis Ahead of Asset Acquisition by Matthew Anderson, CEO of Vanguard Scientific
Registration options are available for in-person, virtual and hybrid attendance.
Event Hours
Monday, October 17: 12 pm – 6:30 pm (ET) Tuesday, October 18: 8 am – 5:45 pm (ET) Wednesday, October 19: 8 am – 12 pm (ET)
Cannabis industry professionals also interested in the food industry can attend the Food Safety Consortium, which begins on Wednesday, October 19 – Friday, October 21.
About Cannabis Industry Journal
Cannabis Industry Journal is a digital media community for cannabis industry professionals. We inform, educate and connect cannabis growers, extractors, processors, infused products manufacturers, dispensaries, laboratories, suppliers, vendors and regulators with original, in-depth features and reports, curated industry news and user-contributed content, and live and virtual events that offer knowledge, perspectives, strategies and resources to facilitate an informed, legalized and safe cannabis marketplace.
About the Cannabis Quality Conference & Expo
The Cannabis Quality Conference & Expo is an educational and networking event for the cannabis industry that has cannabis safety, quality and regulatory compliance as the foundation of the educational content of the program. With a unique focus on science, technology, safety and compliance, the "CQC" enables attendees to engage in conversations that are critical for advancing careers and organizations alike. Delegates visit with exhibitors to learn about cutting-edge solutions, explore three high-level educational tracks for learning valuable industry trends, and network with industry executives to find solutions to improve quality, efficiency and cost effectiveness in the evolving cannabis industry.
Copyright
© Cannabis Industry Journal